How To Measure My chain & Gem Color GUIDES
Measurement Guide
How to Measure Yourself for the BEST Fit!
The best way to ensure a good fit for your body jewelry, is to use a soft-style measuring tape, widely used by seamstresses and tailors. These can be purchased in an inexpensive sewing kit found in most retail stores. If this type of measuring tape is not available to you, use a string or cord to determine the type of fit you would like, and simply measure it with a ruler or standard measuring tape. Keep in mind it is best not to stretch the measuring tape or cord too tightly, as this may cause an uncomfortable fit.
Waist Chain/Belt
Make your measurement around your tummy, at your belly button if you are looking for a higher fit, and approximately 3 inches below your belly button if you plan to let the chain ride lower on your hips.With some wiggle room . remember you need to sit down so not to tight , dont want your chain to pop.
Full Body Chain
A full body chain will require three measurements:
1. Start by measuring around your neck just above your collar bone for your necklace measurement.
2. Next measure your torso in the center of your collar bone down to your waistline or where your preferred length would be .Some like longer than others .
3. The last measurement should be taken around the waist at belly button height.
Remember that all jewelry is customized to YOUR specifications, so feel free to add a few inches for comfort. You may also contact me directly to discuss your fitting needs. My ultimate goal is to make you feel SEXY!
The below sizing chart is a great tool for helping you make the perfect fit!
| | | |
| --- | --- | --- |
| Size | Waist | Hips |
| Small | 20 inches | 28 inches |
| Medium | 29 inches | 36 inches |
| Large | 36 inches | 42 inches |
| X-Large | 42 inches | 48 inches |
Anklet
Make the measurement with the soft measuring tape or rope around your ankle. Remember to leave a little extra room, so the anklet is not too tight!Standrad size anlets are typically 9 1/4 inches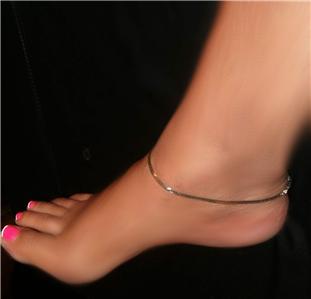 Thong Anklet
This measurement will require your shoe size. Contact me with any questions or concerns
A gift for the special sexy lady in your life? A surprise that you don't want anyone to know about? NO time to take measurements yourself? NO PROBLEM! Simply send me the pant size, inches around the waist and across the butt. Put your trust in Beautifl Stuff, as thousands already have!
Beautifl Stuff Guarantee
Beautifl Stuff offers an unconditional guarantee on the quality, size, and design of all our products. We stand behind our merchandise 100%, and it is our ultimate goal to have you shop with us over and over again!